Apple Pay Now Supports Crypterium Virtual VISA Card
Crypterium, the innovative cryptocurrency platform recognized by KPMG as one of the Emerging 50 Rising Stars in Fintech has announced a partnership with Apple Pay. The recent development comes close to the launch of the Crypterium Card VISA Edition and will enable users to start paying with the virtual VISA card. With the addition of […]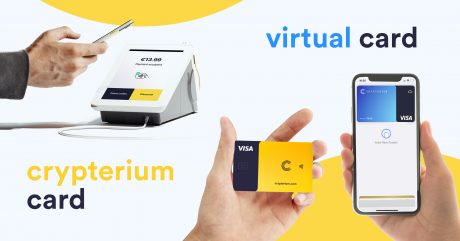 Crypterium, the innovative cryptocurrency platform recognized by KPMG as one of the Emerging 50 Rising Stars in Fintech has announced a partnership with Apple Pay. The recent development comes close to the launch of the Crypterium Card VISA Edition and will enable users to start paying with the virtual VISA card.
With the addition of Apple Pay support for the Crypterium virtual card, users now have an opportunity to choose whether they want to opt for a physical card, a virtual card, or both. Meanwhile, those who are already in possession of or have placed an order for the Crypterium Card VISA Edition can get the virtual VISA card by setting a 3D passcode to activate the virtual card without having to go through the entire application process which also includes KYC formalities among other things.
Announcing the new collaboration, the CEO of Crypterium and former General Manager at VISA Steven Parker said, "Our world is always changing, first from paper bills to plastic cards. Now from plastic cards to virtual cards. That's why the Crypterium team worked on making the option for users to integrate their virtual card with Apple Pay a reality. Why wait for a plastic card, when you get a virtual one instantly? At Crypterium, we believe that digital technology is the future."
The virtual VISA card is available for free on Apple Pay for Crypterium users. Once activated, they can load anywhere between EUR 2 to EUR 5000 daily and use it for online shopping, payments, and subscriptions on any website or mobile application. Except for cash withdrawals on an ATM, all the remaining Crypterium Card VISA Edition's features are available in the virtual card. Also, the virtual card offers an additional layer of security as users will not have to manually enter the card details while making a purchase, thus reducing the chances of card info being stolen or abused.
Crypterium charges a fixed monthly fee of EUR 2.99 irrespective of whether the user has a physical card, virtual card, or both. However, the monthly maintenance fee can be waived if the user loads a minimum of EUR 299 per month to any of their cards. Meanwhile, engineers at Crypterium continue to further enhance the product by providing an option to add up to 5 cards per user along with the ability to add its virtual card to Apple Pay from within the Crypterium app. Soon, these capabilities may also be extended to the Google Pay platform.