Ethereum Approaches Key Resistance; Break Above Could Spark Move to $650
Ethereum has seen a strong rebound from its recent lows today, with its ongoing upswing coming about in tandem with the immense technical strength seen by Bitcoin. The aggregated cryptocurrency market is trending higher today, which is partially being driven by Bitcoin's strong weekly candle close and the ongoing upswing seen in the stock market. […]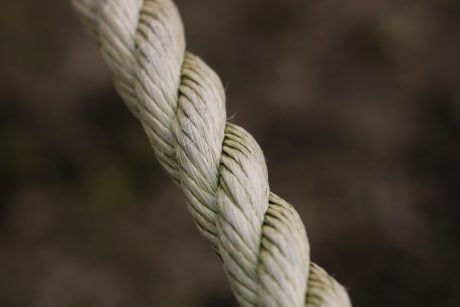 Ethereum has seen a strong rebound from its recent lows today, with its ongoing upswing coming about in tandem with the immense technical strength seen by Bitcoin.
The aggregated cryptocurrency market is trending higher today, which is partially being driven by Bitcoin's strong weekly candle close and the ongoing upswing seen in the stock market.
Despite Ethereum rebounding from daily lows of $350 that were set at the bottom of yesterday's selloff, it is important to note that the crypto has yet to break above its key $380 resistance level.
One analyst is also noting that the slight weakness it saw towards the upper boundary of its cloud – which has seen been surmounted – is also a sign that the digital asset may be moving higher on tempered buying pressure.
That being said, if the market-wide strength seen today extends further and creates a tailwind for Ethereum, there's a chance that it may be able to reclaim one crucial level that could spark its next intense uptrend.
Ethereum Shows Signs of Strength Following Dip to $350
At the time of writing, Ethereum is trading up just under 3% at its current price of $375. This marks a notable climb from its daily lows of $352 that were set at the bottom of yesterday's intense selloff.
It appears that this selloff came about following a trend of one large buyer on Bitfinex using spoof orders to lead the assets price higher.
Once these orders disappeared, ETH's price had the rug pulled out from underneath it, leading to the intense selloff seen yesterday.
It does appear that Ethereum rapidly entered oversold territory yesterday, as the crypto's intense rebound points to some underlying strength.
That being said, the asset has yet to break above $380 and was showing some signs of weakness at the upper boundary of its cloud formation.
Whether or not it can hold above its cloud at $365 and break $380 will likely determine where it trends in the near-term.
This Key Level Could Spark a Move Up Towards $650
While speaking about the cryptocurrency's current outlook, one analyst observed that ETH is on the cusp of breaking above a crucial resistance level that sits just below $400.
The chart he offers – as seen below – seems to indicate that a firm break above this level could lead Ethereum to rally up towards $650.
"Marked bull market resistances of ETH for yall," he noted.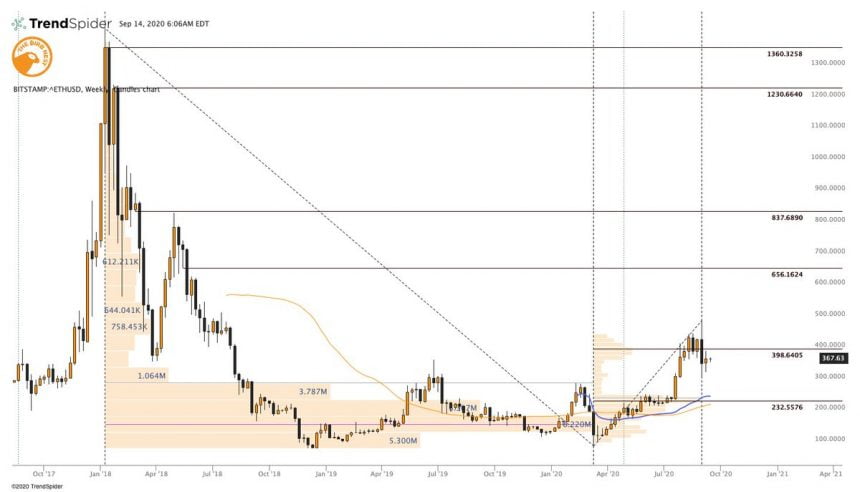 Image Courtesy of CryptoBirb. Chart via TradingView.
Where Bitcoin and the stock market trend throughout the coming few days should hold serious influence over Ethereum's price action.
Featured image from Unsplash.
Charts from TradingView.