Bitcoin Is in for Some "Nasty Chop" as Bulls Lose Their Edge, Claims Trader
Bitcoin has seen its first notable pullback since its recent multi-week uptrend first kicked off, with bears catalyzing a strong rejection at $13,800 that briefly caused it to reel below $13,000 earlier this morning. This selling pressure has been quite intense thus far, but bulls have been vying to keep the crypto above $13,000. Because […]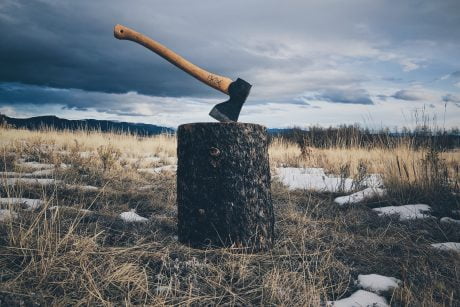 Bitcoin has seen its first notable pullback since its recent multi-week uptrend first kicked off, with bears catalyzing a strong rejection at $13,800 that briefly caused it to reel below $13,000 earlier this morning.
This selling pressure has been quite intense thus far, but bulls have been vying to keep the crypto above $13,000.
Because it has yet to see a sustained decline beneath this level, and each dip below it has been met with significant buying pressure, it does appear that bulls are still in full control of its short-term outlook.
One trader is noting that the intensity of this recent rejection does indicate that a shift in its trend could be imminent, with its slow grind higher potentially turning into a "nasty chop" phase in the near-term.
This means that the crypto might range within the lower-$13,000 region for the coming few days or even weeks as bulls attempt to garner further support.
If they can resolve this consolidation with an upwards breakout, they must shatter the resistance that exists at $13,800.
Bitcoin Loses Its Momentum Following Rejection at $13,800
At the time of writing, Bitcoin is trading down just under 4% at its current price of $13,160. This is around the price at which it has been trading throughout the past few days.
It was able to rally as high as $13,800 yesterday afternoon, which happens to coincide closely with its 2019 highs that were set during the summer rally's peak.
This level will undoubtedly continue acting as strong resistance, but a break above it could catapult Bitcoin up to fresh multi-year highs and potentially even to its $20,000 all-time highs.
Trader: BTC Likely to See "Nasty" Chop in Coming Weeks
One trader isn't convinced that Bitcoin is ready to push higher just yet.
He believes that it will first see a "nasty" bout of choppy trading, followed by a potential decline towards $12,000.
"I'm not in a rush to do anything at this point, I think some nasty chop consolidation is in store, but if a probe of the local highs gets rejected like we saw happen in May and Aug, I'd look for us to fill back in near $12k before we move higher."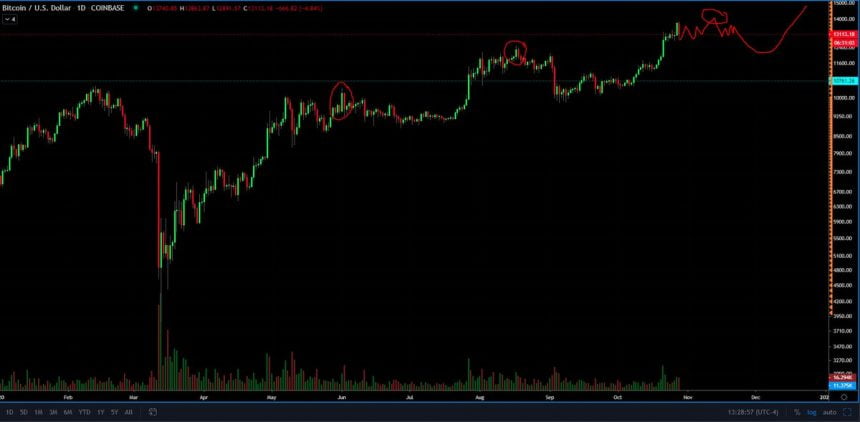 Image Courtesy of Jonny Moe. Source: BTCUSD on TradingView.
Unless bulls gain a second wind that allows them to re-test $13,800, it does appear that its momentum is going to falter in the short-term.
Featured image from Unsplash.
Charts from TradingView.