Crypterium Crypto-Fiat Card Now Officially Available on VISA Network
Crypterium, a popular cryptocurrency based fintech startup has achieved a new milestone by officially entering into a partnership with VISA. As a part of this partnership, the KPMG-awarded company has announced the launch of a new payment card – Crypterium Card VISA Edition. With the addition of Crypterium Card VISA Edition to its portfolio, Crypterium […]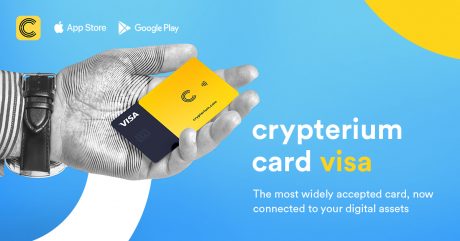 Crypterium, a popular cryptocurrency based fintech startup has achieved a new milestone by officially entering into a partnership with VISA. As a part of this partnership, the KPMG-awarded company has announced the launch of a new payment card – Crypterium Card VISA Edition.
With the addition of Crypterium Card VISA Edition to its portfolio, Crypterium users can now choose between the existing Crypterium Card UnionPay and its VISA counterpart as their preferred instrument for spending cryptocurrencies. According to the company, more than 30,000 cryptocurrency holders from across 150 different countries are already using its card solution. With the entry of new VISA powered cards, the platform expects to serve more than 500,000 customers as it strives to make cryptos as easy to spend as cash.
A fruit of year-long negotiations, the vibrant yellow and black Crypterium Card VISA Edition is available for free. Users will have to just bear the delivery costs which may go up to EUR 14.99 in case of express delivery. However, CRPT token holders will be eligible for free-of-charge delivery.
"Nowadays, most banks offer prepaid cards at no cost. At Crypterium, our goal is to make available similar (or even better) financial services for cryptocurrency holders. People using digital assets needed a truly affordable payment card. And that's what our VISA card is all about," explained Austin Kimm, Chief Operating Officer at Crypterium.
Bridging the Gap
The Crypterium ecosystem is designed to close the gap between traditional and crypto finance through solutions that allow seamless transfer of value between them. With a seamless connection between Crypterium Wallet and Crypterium Card, users can fund their cards with cryptocurrencies to make payments at any PoS terminal or online payment gateways, just like they would do with their bank card. The in-wallet exchange service ensures the conversion of digital currencies to euros, ready to be spent.
Apart from the card, Crypterium also supports crypto to fiat bank transfers and purchase of vouchers to pay for everyday services and goods. The platform is expected to add more products and features in the near future to further enhance the seamless crypto payment experience it offers.
The Crypterium Card VISA Edition comes with a monthly spending limit of up to EUR 10,000 and a cash withdrawal limit of EUR 2500. The card can be managed using the wallet application, allowing the users to block, unblock, change PIN and track card spends. All funds in Crypterium accounts are secured and completely insured by BitGo, a leading cryptocurrency custodian service.
Learn more about Crypterium at – https://crypterium.com/
More information about Crypterium Card VISA Edition is available at – https://cards.crypterium.com/visa