Warning: "Watch Out" For Bitcoin "Bulldozer" When Volume Expands
Volatility is finally increasing after a return to historical lows, but volume has yet to follow. When it does, however, one crypto trader says to "watch out" for the "bulldozer" that will be Bitcoin after a breakout supported by volume expansion. Here's a look at the last time volume contracted this much, and what to […]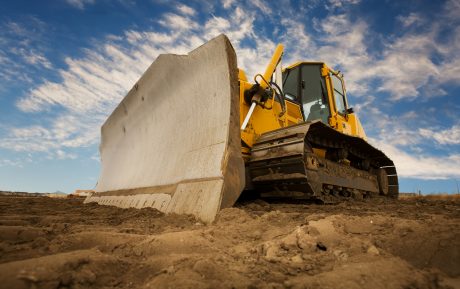 Volatility is finally increasing after a return to historical lows, but volume has yet to follow. When it does, however, one crypto trader says to "watch out" for the "bulldozer" that will be Bitcoin after a breakout supported by volume expansion.
Here's a look at the last time volume contracted this much, and what to potentially expect across the coming crypto market price action when volume finally arrives.
Trader Joel Olszewicz Warns Bitcoin Bulldozer Is Coming
The cryptocurrency market is known for its extreme price volatility that makes holding a wild rollercoaster ride. One price gets going, it can act like a runaway freight train, or as crypto trader Joel Olszewicz says a "bulldozer" when supported by volume.
Related Reading | Analyst: The Next Bitcoin Break Will Set The Stage For Weeks To Come
Bitcoin is currently experiencing its second-largest volume contraction of the year, with the previous one resulting in an over 30% rise from $9,000 to over $12,000 at the local 2020 high.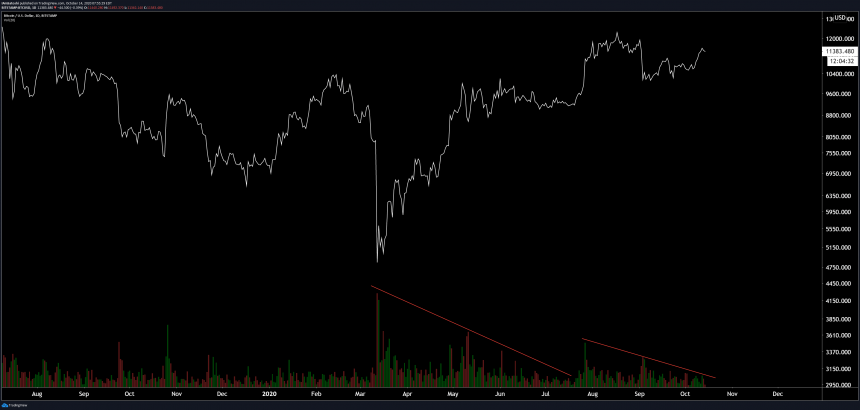 Warning: Bitcoin Bulldozer Coming After Volume Breakout And Expansion | Source: BTCUSD on TradingView.com
From that move, Bitcoin has since retraced slightly and is gearing up for its next major, decision-making move. Whichever direction the cryptocurrency heads next, should set the trend for the rest of the year and into 2021.
Under Construction: Have Bulls Built A Foundation For Run To Begin?
The fact that volume isn't following the latest breakout above $11,000 is slightly alarming for bulls that could be being baited into a trap.
In this scenario, Bitcoin falls instead, and the "bulldozer" effect will give $10,000 another, more powerful retest that bulls will need to hold.
Bulls are warned to potentially get out of the way and "watch out," but the same is true if the top cryptocurrency continues higher.
Related Reading | Crypto Calculated: How Ancient Math Predicts Bitcoin's Next Top At $270K
Another breakout with volume to support the price increase could push Bitcoin through $12,000 and not stop until it sets a higher high above last year's peak at $13,800.
The higher high would be a significant buy signal and confirmation of a new uptrend, following the higher low set on Black Thursday. If that's the case, the bull run could blossom from the dirt left behind from the bulldozer's destructive path.
Featured image from Deposit Photos, Charts from TradingView