Bitcoin Address Activity Points to Ongoing Trend Reversal
Bitcoin's fundamental strength has been growing in recent weeks, which is starting to be reflected in its price action. After an extended bout of technical weakness as BTC traded within the lower-$10,000 region, the digital asset's buyers finally stepped up. They catalyzed a sharp upwards move, which subsequently allowed its price to climb up towards […]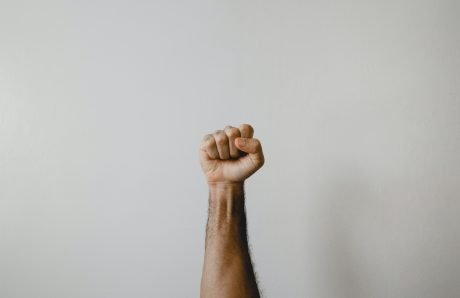 Bitcoin's fundamental strength has been growing in recent weeks, which is starting to be reflected in its price action.
After an extended bout of technical weakness as BTC traded within the lower-$10,000 region, the digital asset's buyers finally stepped up. They catalyzed a sharp upwards move, which subsequently allowed its price to climb up towards $11,000.
Today's strong upswing bolstered its technical outlook and has led analysts to set their sights on a movement towards $11,000 in the near-term.
It also appears that this technical strength is being perpetuated by fundamental strength expressed by the crypto in recent weeks.
One analytics firm observed that activity surrounding the cryptocurrency's wallet count seems to indicate that BTC may be in the process of conducting a trend reversal.
This sign of a trend-reversal comes as analysts flip bullish on the crypto, noting that it may be well-positioned to see significantly further upside in the days ahead.
Bitcoin's Technical Strength Grows as Analysts Eye Further Upside 
At the time of writing, Bitcoin is trading up over 3% at its current price of $10,700. This price marks a notable upswing from its daily lows of $10,200 that were set during yesterday's slight downtrend.
The weakness seen by the crypto throughout the past couple of weeks struck a blow to its technical outlook, leading analysts to note that it may be poised for a reversal of its mid-term bull trend.
However, the strong defense of the $9,900 to $10,000 region has been an incredibly positive development for the cryptocurrency, indicating that this may be a strong base for it to grow against.
One trader explained that he is expecting further upside, noting that its ongoing upswing indicates that a rally past $12,400 may be imminent.
"A scenario you should be watching tbh," he said while pointing to the chart seen below.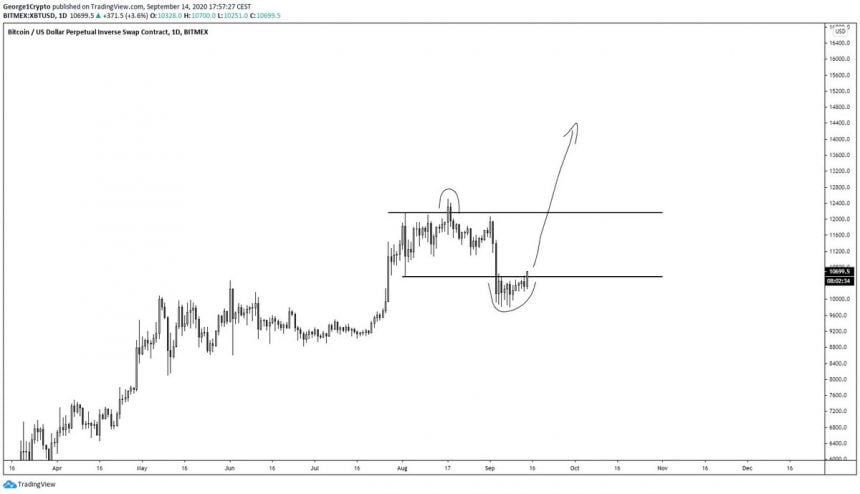 Image Courtesy of George. Chart via TradingView.
BTC Wallet Activity Points to a Bullish Trend Reversal
Throughout this ongoing rebound, Bitcoin's daily active address count has been plummeting.
This is indicative of a shifting trend, as historically, these types of sharp drops have preceded shifts in Bitcoin's mid-term direction. This can be seen while looking at the below chart from analytics firm Santiment: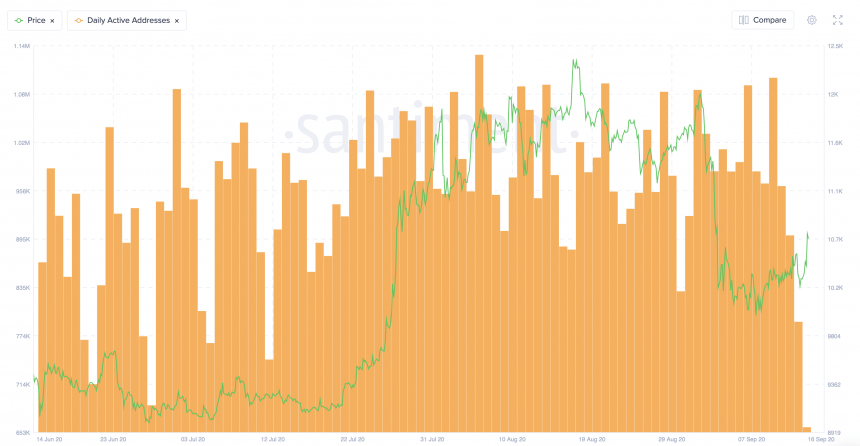 Image Courtesy of Santiment.
If this historical trend persists, then today's decline in daily active addresses may indicate that this is the start of a fresh uptrend.
Couple this with Bitcoin's strong technical outlook, and it does appear that upside may be imminent.
Featured image from Unsplash.
Charts from TradingView.