Here's Why Ethereum Could Return to Last Week's Lows at $315
Ethereum has surged over the past few days after bottoming at $310-315 early last week. The leading cryptocurrency has been benefiting from a recovery in both legacy markets and Bitcoin, which both have pushed higher since the lows they established last week. As of the time of this article's writing, ETH trades for $380 — […]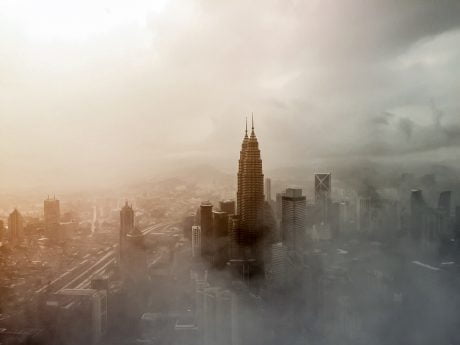 Ethereum has surged over the past few days after bottoming at $310-315 early last week. The leading cryptocurrency has been benefiting from a recovery in both legacy markets and Bitcoin, which both have pushed higher since the lows they established last week.
As of the time of this article's writing, ETH trades for $380 — which is a price over 20% higher than the aforementioned lows.
The cryptocurrency is up 5% in the past 24 hours, having pushed higher from a strong drop on Sunday morning. The coin remains in a decent spot from a derivatives positioning standpoint, with funding rates mostly neutral.
Still, an analyst thinks that Ethereum could be primed to correct back towards the low in the near future. Here's why this analyst thinks this will be the case.
Ethereum Could Be Poised to Correct Towards $383: Here's Why
Ethereum's ongoing rally hasn't convinced all traders that the cryptocurrency is back in a bull trend.
One analyst and exchange co-founder shared the chart below on September 14th. It shows that while ETH's rally has marked a strong bounce, the coin is currently in a precarious technical situation.
The chart shows that ETH is currently rubbing up against two key resistances: a horizontal support at ~$385 and an internal trend line that supported the price recovery last week. The analyst's indicator, Top Goon X, has also formed a low time frame reversal signal, suggesting downside is more likely than upside.
These factors working in tandem are set to bring Ethereum towards the low-$300s, he suggested:
"I shorted $383. Resistance retest. Top Goon X with a LTF trend reversal signal. Potential for a "home run" play if we drop to low $300's. Had to take the chance."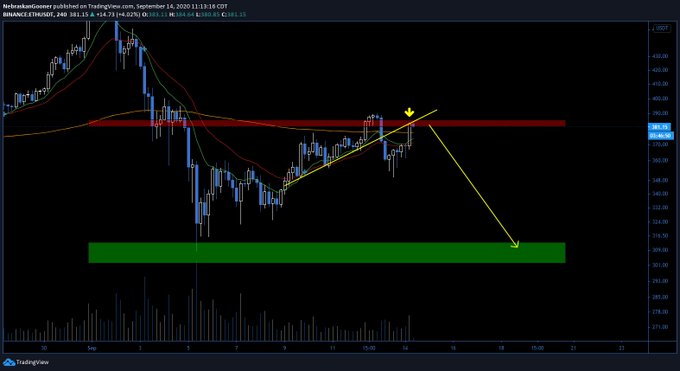 Chart of ETH's price action over the past few weeks with analysis by crypto trader and LVL founder "Nebraskan Gooner" (@Nebraskangooner on Twitter). Chart from TradingView.com
All Eyes on Legacy Markets
Although there are reasons to think Ethereum reverses as he laid out, it's important to keep an eye on legacy markets this week.
Alex Kruger, a macro analyst and economist tracking the crypto industry, recently commented that legacy markets could undergo a rally this week:
"Could have an obscenely green rocket start of the week. From Wednesday on it will be up to the Fed to let the party continue. Quite a few IPOs this week could help fire up risk appetite."
This is important for Bitcoin as the cryptocurrency has roughly been tracking stocks over the past few months.
Featured Image from Shutterstock
Price tags: ethusd, ethbtc
Charts from Tradingview.com
Here's Why Ethereum Could Return to Last Week's Lows at $315