Bitcoin Held By Public Companies Now On Par With Past Market Cap
The Bitcoin market cap is hovering at roughly $211 billion currently, but four years earlier, it was a meager $6.8 billion. This figure matches the BTC supply public companies now hold alone, and it could provide the "writing on the wall" regarding what to expect in terms of the asset's future growth. Bitcoin Matures Into […]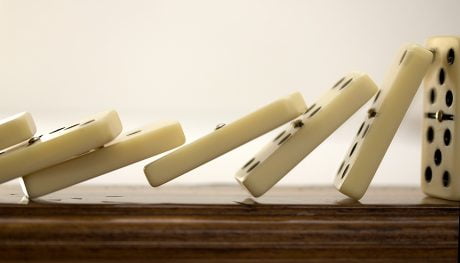 The Bitcoin market cap is hovering at roughly $211 billion currently, but four years earlier, it was a meager $6.8 billion. This figure matches the BTC supply public companies now hold alone, and it could provide the "writing on the wall" regarding what to expect in terms of the asset's future growth.
Bitcoin Matures Into Corporate Reserve Asset, Domino-Effect Could Drive New Bull Run
The crypto market is evolving: decentralized finance is far more sustainable than the ICO boom, and Bitcoin is maturing into a respected asset alongside gold, stocks, and more.
Related Reading | Square's Bitcoin Investment Made $2 Million Over The Last 24 Hours
What was once a retail-driven asset class, is now being strongly considered by hedge funds, gold bugs, institutions, and recently, a trend of publicly-traded companies adding BTC to their corporate treasury reserves.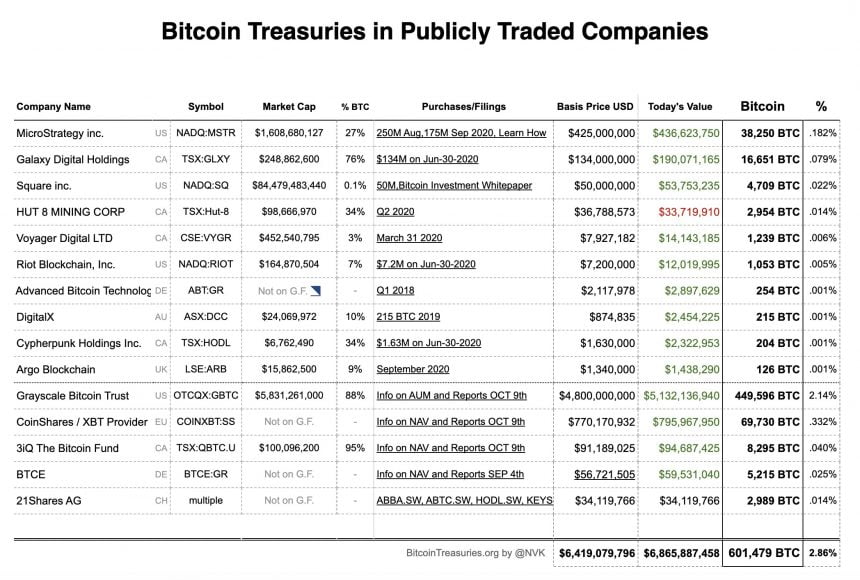 Total BTC in USD Value Held In Publicly Traded Company Treasuries | Source: BitcoinTreasuries.org
The total amount of Bitcoin in USD currently held by fifteen companies is valued at $6.8 billion and climbing. $50 million was just added by the Jack Dorsey-led Square, Inc. in what seems to be a domino-effect kicked off by MicroStrategy.
The number is especially significant, because just four years earlier the Bitcoin total market cap was just $6.8 billion, before the bull run that put crypto on the map.
One crypto analyst that noticed the comparative amount of capital then and now, the "writing is on the wall" in terms of what happens next.
Market Cap Comparison Projects $6 Trillion BTC Market Cap If Same Path Is Followed
Bitcoin's market cap then and now, can potentially forecast what to expect if the same growth rate continues.
Back then, the market cap was just $6.8 billion – as much as companies now hold collectively. Today, it is $211 billion and ready to soar.
From the meager beginnings of just $6.8 billion worth of the earliest adopter money, that same amount worth of BTC is now held by some of the biggest names in finance and tech. And the list could soon grow.
If Bitcoin's market cap maintained the same 3,000% ROI from when it was $6.8 billion to now, from here to the next peak would project a market cap of over $6.6 trillion.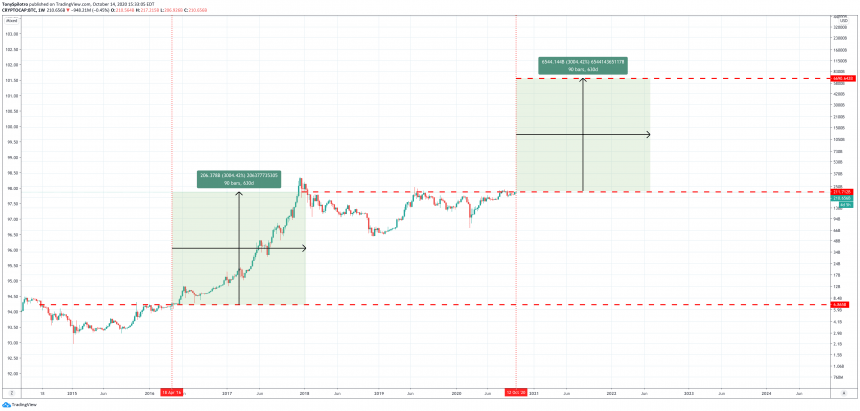 Projected Bitcoin Market Cap After Next Bull Market Peak | Source: Bitcoin Market Cap on TradingView.com
Bitcoin is unlike any other asset before it, but even it yields diminishing returns, so the same trajectory isn't likely. Anything is possible in the world of cryptocurrencies, however, especially given the current economic conditions.
A $6.6 trillion market cap would take Bitcoin to a price of over $350,000 per BTC at the current circulating supply. A 3,000% increase of company capital alone, would bring the total to $211 billion, where Bitcoin's market cap is right now.
Related Reading | Analyst: Sidelined Capital Enough To Push Bitcoin To $1 Trillion Market Cap
Out of all the numbers most likely to be false, it's that one. If the trend of company capital coming into BTC continues, in four years, the once retail dominated market could be held by companies will billions in reserves that need protection from inflation.
If a domino effect occurs, and more companies follow suit, combined with the debasement of the dollar, $6.6 trillion may be selling Bitcoin's next peak short despite what should be diminishing returns.
Featured image from Deposit Photos, Charts from TradingView.com & BitcoinTreasuries.org