Bitcoin's Weekly Candle Just Closed—And We're In the "Middle of Nowhere"
Just an hour ago, Bitcoin's weekly candle closed after an eventual week in which the leading cryptocurrency surged from lows near $10,000 to a local high at $11,150. The coin now trades at $10,950 as of this article's writing, slightly above the ~$10,850 weekly close. The cryptocurrency, while above the pivotal $10,000 technical and psychological […]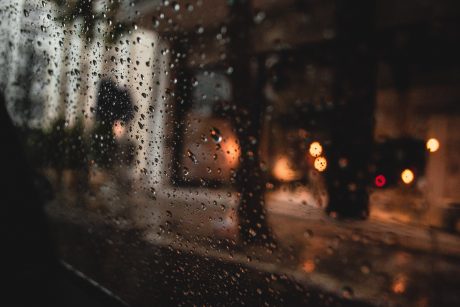 Just an hour ago, Bitcoin's weekly candle closed after an eventual week in which the leading cryptocurrency surged from lows near $10,000 to a local high at $11,150. The coin now trades at $10,950 as of this article's writing, slightly above the ~$10,850 weekly close.
The cryptocurrency, while above the pivotal $10,000 technical and psychological support level, is purportedly still in the middle of nowhere on a macro time frame. Bitcoin will need to move above local range highs or lows to confirm a trend.
Bitcoin Is In the Middle of Nowhere on a Weekly Time Frame
One analyst remarked that Bitcoin closed the weekly candle in no man's land despite the 10% rally from the local lows.
He did note, though, that BTC is not exactly bearish. The analyst cited the coin's ability to move above $10,600. $10,600 is where three separate Bitcoin rallies topped over the past year, making it a level of importance for BTC to hold:
"Closed-back above resistance. I've been saying I'll close my $12k short if that happens and I'll do so today. We're trading in the middle of nowhere ($11.5k resistance, $10.6k support) so I'm happy taking the win (amplified by the fact I already closed half at $10.3)."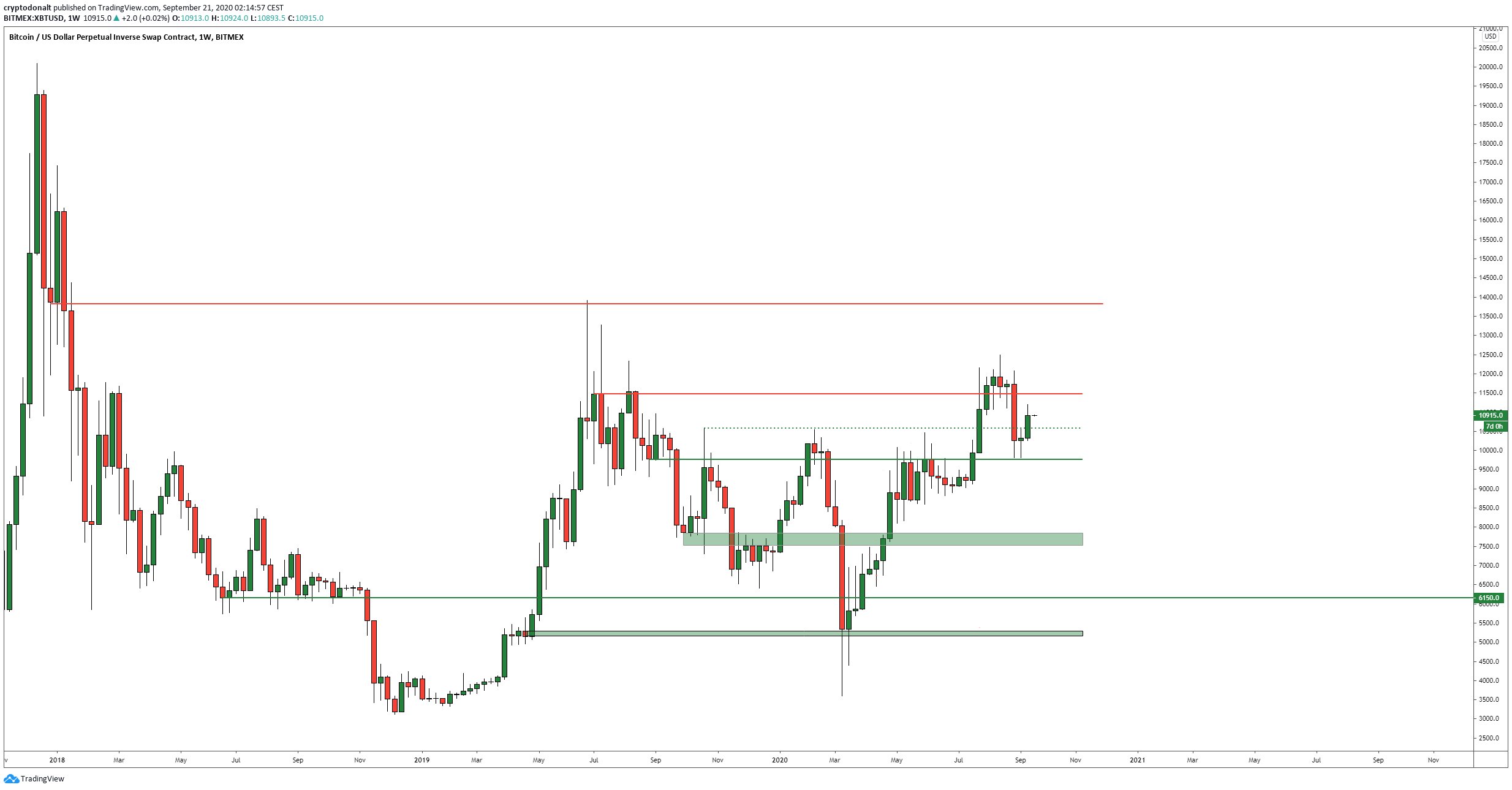 Chart of BTC's price action since late 2017 with analysis by crypto trader DonAlt (@CryptoDonAlt on Twitter). Chart from TradingView.com
Stock Market Will Predict What's Next
The stock market is likely to predict what comes next for Bitcoin.
Like BTC, S&P; 500 and other leading indices have stalled at highs, resulting in the formation of a large consolidation range.
Analysts are hopeful that the S&P; 500 and other stocks will soon continue their ascent due to continued commitment to inject the economy with stimulus by central banks. The Federal Reserve recently commented:
"The Committee decided to keep the target range for the federal funds rate at 0 to 1/4 percent and expects it will be appropriate to maintain this target range until labor market conditions have reached levels consistent with the Committee's assessments of maximum employment and inflation has risen to 2 percent and is on track to moderately exceed 2 percent for some time. In addition, over coming months the Federal Reserve will increase its holdings of Treasury securities and agency mortgage-backed securities at least at the current pace to sustain smooth market functioning and help foster accommodative financial conditions, thereby supporting the flow of credit to households and businesses."
Further strength in the stock market is likely to act as a boon for Bitcoin, which has rallied over recent months when the S&P; 500 has scaled higher.
Featured Image from Shutterstock
Price tags: xbtusd, btcusd, btcusdt
Charts from TradingView.com
Bitcoin's Weekly Candle Just Closed—And We're In the "Middle of Nowhere"