Renewed U.S. Stimulus Discussions Could Ignite an Explosive Bitcoin Rally
Bitcoin's price has been fairly stagnant as of late, remaining stuck within its macro trading range between $10,200 and $11,200. It is now pushing towards the upper boundary of this range and may soon be able to rally past it. If this level is broken in a sustainable move, it could indicate that serious upside […]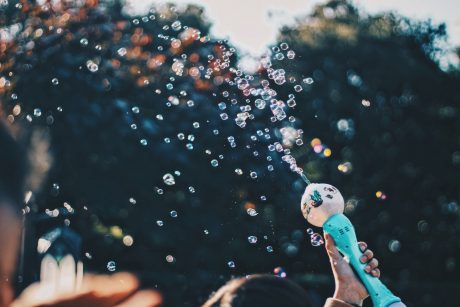 Bitcoin's price has been fairly stagnant as of late, remaining stuck within its macro trading range between $10,200 and $11,200. It is now pushing towards the upper boundary of this range and may soon be able to rally past it.
If this level is broken in a sustainable move, it could indicate that serious upside is imminent for BTC, as it has acted as a crucial resistance level for nearly a month now.
While looking at Bitcoin in isolation, the cryptocurrency is expressing strength on both a technical and fundamental front.
This latest upswing came about due to Square's announcement regarding their purchase of $50 million worth of BTC to be held as a reserve asset.
This news renewed investor sentiment in BTC and indicates that this could become a growing trend amongst other public companies that are looking to guard their capital against imminent inflation.
Now, external forces may also boost Bitcoin's bull case, as the government is seemingly making progress on another stimulus package for U.S. citizens, which could ignite a massive stock market rally that creates a tailwind for BTC.
One analyst is betting on this being the case.
Bitcoin Breaks $11,000 as Technical Strength Builds
At the time of writing, Bitcoin is trading up just over 1% at its current price of $11,050, which is around where it has been trading throughout the entire day.
The cryptocurrency's strength has been significant and has primarily come about as a result of speculators betting on Square's decision to buy Bitcoin kickstarting a trend amongst other multi-billion-dollar companies.
The crypto still has some serious resistance it faces around $11,200. A failure to break above this level would lead to serious downside.
Traditional Markets May Lift BTC Higher
The global markets are trending higher today on renewed hope of a second round of stimulus, which has been held up by political quarreling.
A Wall Street Journal reporter spoke about the potential deal that is coming down the pipeline, stating:
"NEWS: Mnuchin is preparing to present Pelosi with a $1.8 TRILLION counteroffer when the two speak today… Kudlow said this morning POTUS has approved an offer."
One analyst believes that this will help guide Bitcoin higher in the days ahead, should the traditional markets continue rising.
"Legacy looks good, BTC has been trending bullish since Thursday. I am actively scalping, favouring longs until market conditions change. Think we go higher, suspect a rocky road."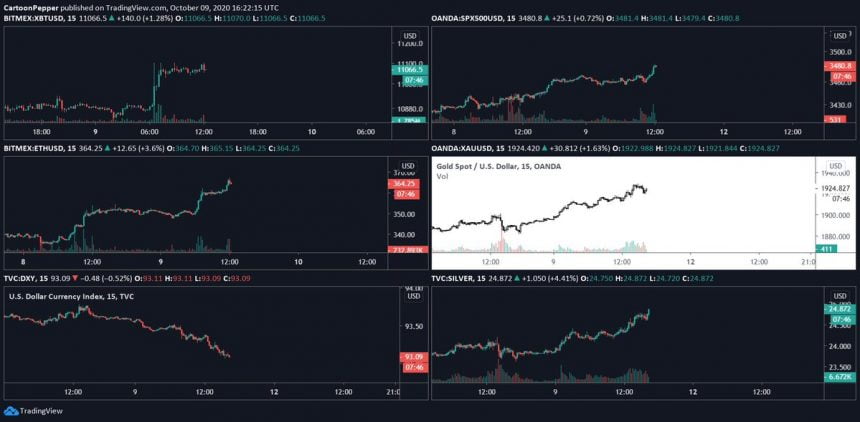 Image Courtesy of SalsaTekila. Chart via TradingView.
If the potential stimulus package that is lifting the traditional markets higher falls through, it could place some serious pressure on Bitcoin.
Featured image from Unsplash.
Charts and pricing data from TradingView.