Analysts Expect Chainlink to See Accumulation Before Rocketing Higher
Chainlink's price action has been rather lackluster as of late, with Bitcoin's indecisiveness not providing altcoins with much momentum. LINK has been caught within a bout of sideways trading throughout the past few days, with buyers and sellers largely reaching an impasse as the crypto ranges between $10.50 and $12.00. Until one of these levels […]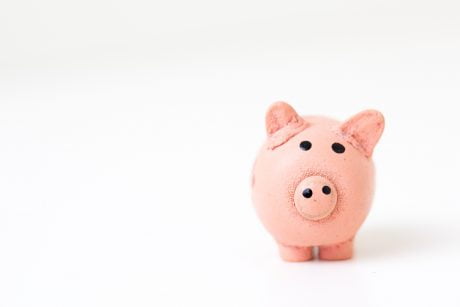 Chainlink's price action has been rather lackluster as of late, with Bitcoin's indecisiveness not providing altcoins with much momentum.
LINK has been caught within a bout of sideways trading throughout the past few days, with buyers and sellers largely reaching an impasse as the crypto ranges between $10.50 and $12.00.
Until one of these levels is decisively broken above or below, it will likely continue seeing relatively lackluster price action as bulls and bears both try to gain control of its near-term outlook.
There is a bullish possibility that the cryptocurrency is currently caught within an accumulation phase that will be followed by further upside.
One analyst mused this possibility in a recent tweet, explaining that it has strong support around $10.00, with resistance in the mid-$12.00 region and around $14.00.
If this is an accumulation phase, then a visit to these resistance levels may be imminent in the days and weeks ahead.
Chainlink Consolidates Alongside Bitcoin as Altcoin Market Stagnates
At the time of writing, Chainlink is trading down marginally at its current price of $11.00, which is around where it has been trading throughout the past few days.
LINK's ongoing consolidation phase has come about primarily due to that seen by Bitcoin, as the benchmark crypto has been trading between $11,400 and $11,600 for the past few days.
Until Bitcoin gains some clear directionality, the entire altcoin market – including Chainlink – will likely continue consolidating.
This is one of the few times where LINK has seen a correlation to BTC that is this strong, as it typically incurs both uptrends and downtrends independent of the aggregated market.
This trend may soon come to an end, and it may begin moving in tandem with the rest of the market – for better and worse.
Analyst: LINK Enters Possible Accumulation Phase as Sideways Trading Persists
While speaking about where he thinks Chainlink may trend next, one analyst explained that this consolidation phase could mark accumulation, which would suggest that a move higher is imminent.
"LINK… Still the same view on this one. Expecting a further accumulation period on this one too, just the same as the previous impulse wave. Clear resistances at $12.35-12.50 and $13.75-14.00. Long areas at $10 and $8.75-9.00," he said.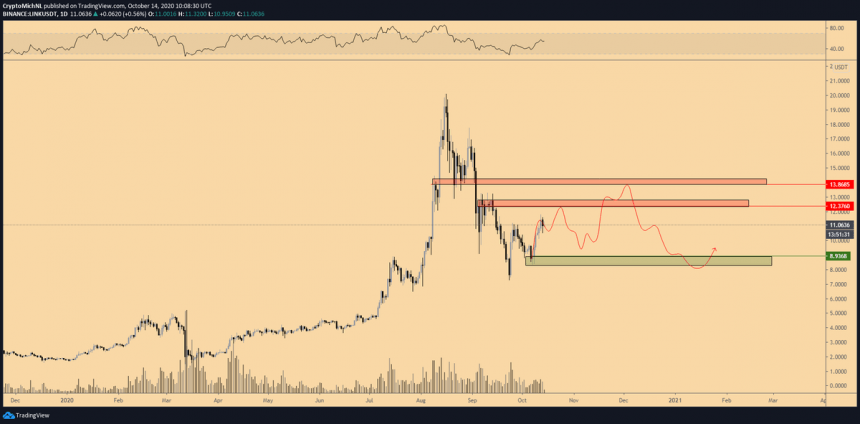 Image Courtesy of Crypto Michael. Source: LINKUSD on TradingView.
If Bitcoin faces any intense downwards pressure in the near-term, LINK's price may also incur some turbulence that causes it to slide down towards its recent lows.
Featured image from Unsplash.
Charts from TradingView.