Uniswap's UNI Token May Reel to $3.30 as Selling Pressure Ramps Up
Uniswap's UNI token launch generated massive hype for around 24 hours, leading the token's price to surge up to highs of $8.50 before the hype faded and the cryptocurrency's price plunged lower. It doesn't appear that the hype will return anytime soon, as the token has since erased the vast majority of its gains and […]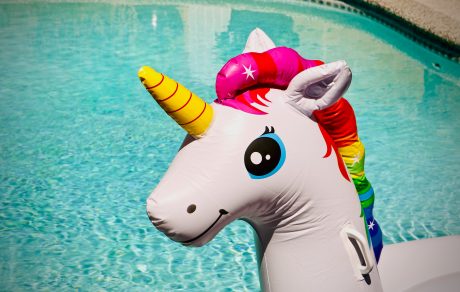 Uniswap's UNI token launch generated massive hype for around 24 hours, leading the token's price to surge up to highs of $8.50 before the hype faded and the cryptocurrency's price plunged lower.
It doesn't appear that the hype will return anytime soon, as the token has since erased the vast majority of its gains and is showing heightened signs of weakness.
This weakness has come about in tandem with that seen by Bitcoin and the aggregated cryptocurrency market.
BTC's price has reeled down towards the lower-$10,000 region today and is showing few signs of strength as sellers continue taking profits off the table. Similarly, Ethereum's price has also crashed, reaching the $330 region before finding some slight buying pressure.
This market-wide weakness may continue hampering UNI's growth, and potentially lead it lower.
One analyst is even setting his sights on a move down towards $3.30, noting that this may be the price it plunges to before it is able to find some significant support.
Uniswap's UNI Token Struggles to Maintain Its Hype as Momentum Fades
At the time of writing, Uniswap's UNI token is trading down over 14% at its current price of $4.24. This is around the price at which it has been trading throughout the past several days and weeks, with buyers being unable to catalyze any strong momentum.
UNI's weakness likely stems from a combination of factors, including fading hype following the intense $8.50 rejection, as well as technical weakness seen throughout the past few days.
It is important to note that it is still trading up considerably from its post-launch lows of $1.00.
At the moment, investors in UNI may be concerned about the lack of benefits that token holders currently receive, but it is probable that incentives – like a fee distribution – will eventually be proposed and voted through.
Trader: UNI Likely to Target $3.30 as Selling Pressure Ramps Up
While speaking about Uniswap token's current technical outlook, one trader explained that he believes its price will dive down towards $3.30 before it is able to find some strong support that boosts it higher.
"If you liked UNI at $5.2, you gonna love it at $3.3," he said while pointing to the support level marked on the below chart.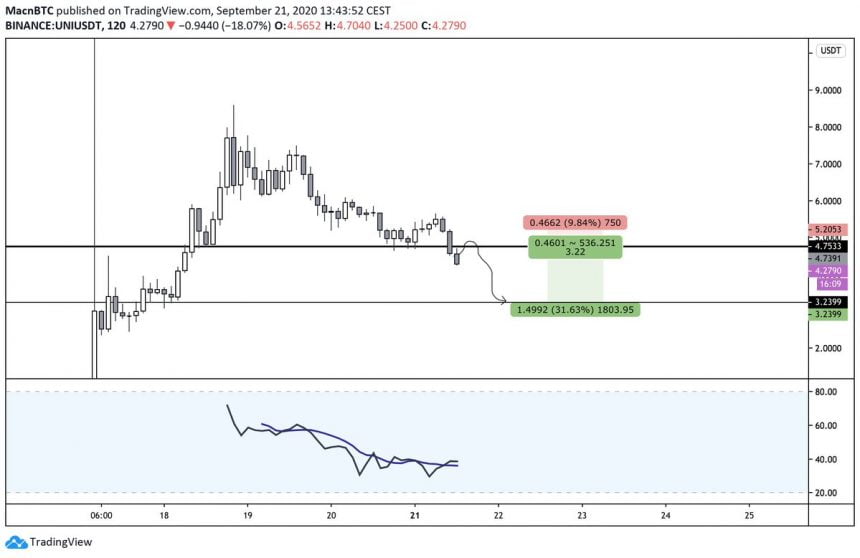 Image Courtesy of Mac. Chart via TradingView.
How altcoins like Uniswap's token trend in the coming few days should depend largely on Bitcoin and Ethereum.
Featured image from Unsplash.
Charts from TradingView.