XRP: Three Heads Are Better Than One, But Could Mean No New ATH Until 2023
XRP continues to lag behind the rest of the market, but an inverse head and shoulders pattern has investors hopeful that the altcoin will soon outperform Bitcoin, Ethereum, and others finally after a period of stagnancy. Ripple holders, however, may want to avoid getting ahead of themselves, as two other, much larger matching reversal patterns […]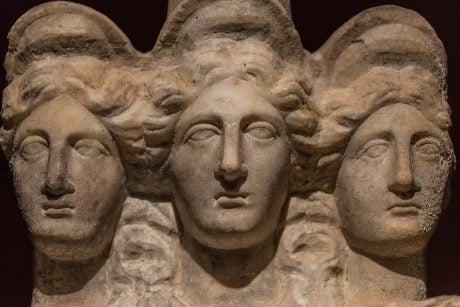 XRP continues to lag behind the rest of the market, but an inverse head and shoulders pattern has investors hopeful that the altcoin will soon outperform Bitcoin, Ethereum, and others finally after a period of stagnancy.
Ripple holders, however, may want to avoid getting ahead of themselves, as two other, much larger matching reversal patterns suggest new all-time highs could take until 2023 or beyond.
XRP Investors Watch For Right Shoulder To Form On Three Reversal Patterns
There's a fierce argument taking place across the cryptocurrency space regarding Bitcoin and where the asset is in relation to its current market cycle.
According to followers of the stock-to-flow model,  the halving has such a dramatic impact on supply and demand dynamics that a new bull is due every four years. Others claim Bitcoin cycles are lengthening, and the halving isn't all that it is cracked up to be.
And while this far along the crypto asset is pacing perfectly with past cycle trajectories, XRP could shed some light on how a lengthening cycle could play out.
XRP has struggled compared to other crypto assets, so perhaps it is not the best indicator for what might happen to Bitcoin and other assets. However, a long-term rounded bottom may be forming that points to no new peaks in the crypto market until 2023 and beyond.
Within the extended high timeframe curvature, the fourth-ranked cryptocurrency is currently forming a right shoulder on three entirely different timeframes.
The three reversal patterns and their targets line up almost too well with the rounding pattern, adding credence to theories about lengthening cycles, but also potentially confirming a lack of a new ATH in most assets until much later than most expect.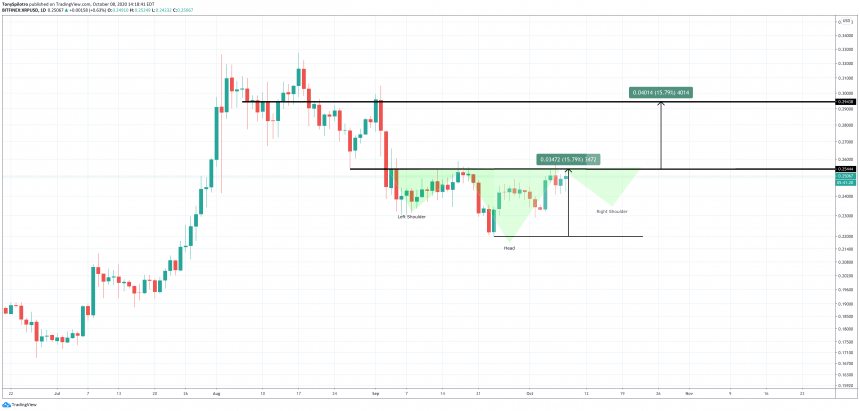 XRPUSD Daily Inverse Head And Shoulders #1 | Source: TradingView
Ripple Forming Rounded Bottom, Pattern Says No New ATH Until 2024
The above chart is just the smallest of three high timeframe inverse head and shoulders taking shape in XRPUSD. The ripple-effect of the DeFi fallout has funds flowing into other altcoins not related to Ethereum.
In English, there's an idiom that says that "two heads are better than one." In Japanese, however, the saying is "three heads." Rather than comparing the two heads to just one in a negative way, they compare the three heads positively with the Buddha of Transcendent Wisdom, a blog on the subject explains.
"This deity wields a flaming sword of wisdom that slices and dices through ignorance and hypocrisy," it continues.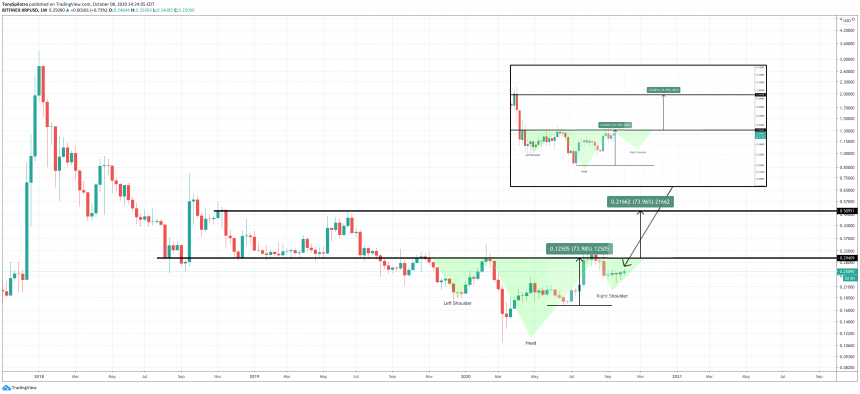 XRPUSD Weekly Inverse Head And Shoulders #2| Source: TradingView
XRP investors watching only daily timeframes may be ignoring another higher timeframe head and shoulders that warrants more patience. The weekly chart also is potentially waiting to complete yet another right shoulder on an even larger, inverse head and shoulders pattern beginning with a breakdown of support from mid-2019.
The head in this scenario was formed with Black Thursday and the nearly six months it took to get back to the February high. Zooming out further creates an Inception-like situation, where yet another, larger, higher timeframe inverse head and shoulders pattern dominates the entire bear market worth of price action, grinding along a rounding bottom pattern that points to no new all-time highs for quite some time.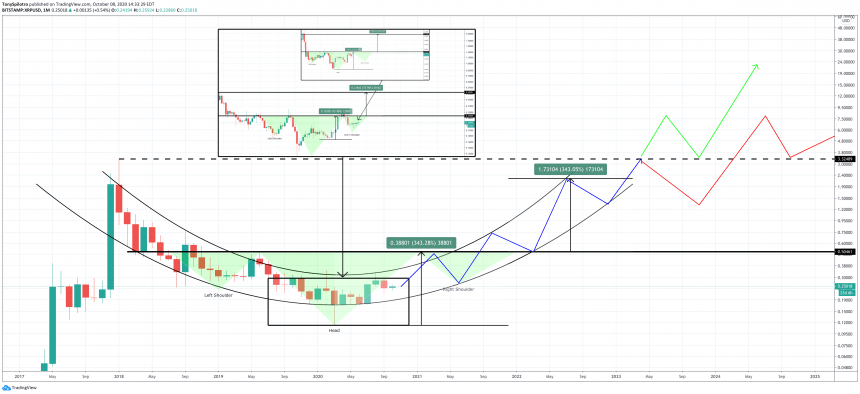 XRPUSD Monthly Inverse Head And Shoulders #3| Source: TradingView
Each inverse head and shoulders pattern starting from the smallest timeframes up will create and complete the right shoulder that would bring Ripple investors some much-needed redemption. The monthly timeframe shows an even larger head and shoulders pattern with a target of $2.50.
Because that target is still below the previous peak, and due to the ongoing curvature that's contained all monthly candle closes thus far throughout the bear market, there may be no new all-time high until 2023 or later.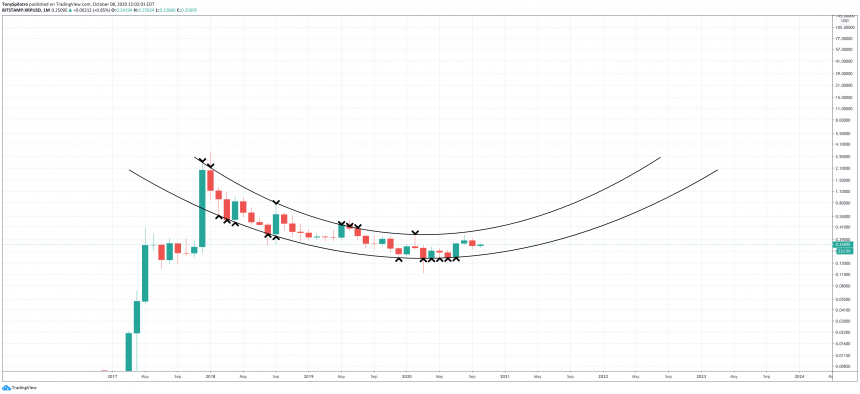 Ripple Monthly Rounded Bottom | Source: TradingView
The rounding bottom and top support and resistance channel, has kept over 18 different monthly candle closes held within its barriers, and could very well continue to do so for several more years.
If this is the case, it is not necessarily bad for Ripple, but it would mean that new all-time highs are a lot further off than most crypto investors are prepared to hold for.
Featured image by Deposit Photos, Charts from TradingView